Starting your own website can feel like a bit of a rollercoaster ride. If you enjoy writing and connecting with people, then blogging is likely something for you. Getting started may feel a bit overwhelming with so much information out there, so I'd like to take a moment to make my experience as simple as possible.
13 Simple Steps To Set Up a New Blog:
Establish what it is you're going to write about
Decide on a blog name… whether you use your own name or you choose something different
Choose a Domain (the web address) your website will be found at
Choose a website host to host your website for you
Decide on a theme (what you're website will look like)
Create your About Me, Contact Me, Privacy Policy, and Terms of Use pages
Upload the RankMath and Scriptless Social Sharing plugins to help you with your social media sharing and being found on search engines
Ensure your website is ADA compliant
Begin writing content, and don't forget to add your main keyword in the RankMath keyword block
Review and optimize your work for search engines
Create graphics for each blog post to be viewable on social media websites and Pinterest.
Decide on ways to monetize your blog
Consider joining a blogging mastermind (yes, even for beginners)
Domains and Hosting
Before you can get started with your own blog or website, you need a domain name. This can be your name or a special blog name. There really are no hard and fast rules to choosing a blog name. When you start your initial search, use something like the URL checker offered by BigScoots or NameCheap.
Free or cheap isn't always the best
Most websites catering to new bloggers will show free options and the cheapest options. Having started free and upgraded to cheap blog hosting, just to upgrade again to more expensive blog hosting, I can tell you the only free blogging you should be doing is over on LinkedIn's Articles or as a guest providing articles on someone else's website.
Free blogging options include Google's Blogger platform, ThriveGlobal, Medium, Tumblr, WordPress.com, and others. However, using one of these options is a lot more difficult to get them ranked on the first page of search engines, where 90% of blog traffic is found, and even more difficult to monetize.
That being said, there are ways to syndicate your blog onto websites like Medium, which can be as beneficial or more than sharing across your social media channels.
Free hosting will not allow you to monetize your blog.
In fact, you do not own your website when you use the free host options. Free website hosts own your website and content. If you choose to go with a free blog host, ensure you understand their user policy and terms of service. They can shut you down at any moment without notice, causing you to lose all your hard work.
Most free blogging websites contain terms and conditions that do not allow you to use your blog to make money. They're intended to give you a free space to write as a hobby. I've seen many bloggers experience their website suddenly taken away just because they charged for a coaching program or monetized using affiliate links.
Plus, if you're interested in eventually adding advertisements, most ad companies will only place ads on self-hosted domains.
I strongly suggest hosting your own domain.
This means having your own .com (or similar) website address and "hosting" it through a hosting company. This means you own 100% of your content and maintain the freedom to talk about anything you want with the ability to add ads, affiliate links, digital items for sale, physical items for sale, paid memberships, paid coaching programs, etc.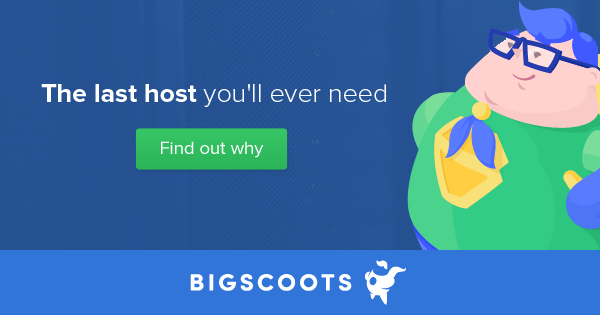 I host my websites through BigScoots, and can't recommend them enough.
Originally I used Blogger through Google because it was free and I wasn't sure if blogging was something I wanted to do. Blogger's limiting features provided underwhelming features and no results. Then in 2014, I started writing again using Blue Host for my website hosting, as most bloggers who blog about blogging recommend.
I left Blue Host after 3 years, feeling sick over how much my website was inaccessible because of server problems.
Literally, my website was inaccessible more than it was accessible because of BlueHost's servers not being able to keep it running. Considering I spent $400+ yearly for their services, that much downtime was unacceptable.
I switched to SiteGround in 2017, excited to hear other bloggers recommend it. As for cost, they're very similar. I spent $48 ($3.95/month) for the first year, and then my bill shot up to $39.93 per month. I thought that wasn't a big deal… until I looked at my page speed while working on optimizing my website. Some of my website pages took 7-15 seconds to load! That is an eternity in internet time, and exactly why I started losing rankings with Google!
In 2019 switched my hosting to BigScoots. They provided a substantially faster website load time, which is a major factor in Google rankings and having people continue reading through my website.
With BigScoots, I pay $34 per month for much faster service (yes, I SAVED money while experiencing BETTER services). You can start with them for as low as $5 each month through their shared hosting, depending on your chosen plan (plus, they don't increase prices after the first year).
So… I saved money while massively increasing my website page load speed… plus everything is managed, allowing me to stop DIYing everything with my website. Now I just send them a support ticket about what I need to be done, and they handle everything for me, which saves 10+ hours each month.
Getting Set Up
When you have your domain chosen and you've settled on where you're hosting your website, it is time to choose what it will look like.
I highly recommend WordPress. WordPress.org provides numerous paid and free themes that will determine what your website will look like.
It is very simple to set up… Just click on Appearance in the left side menu, select Theme, and select Upload A New Theme at the top. This will give you a searchable list of themes to choose which layout you like the best. The themes are templates where you just plug in what information you want where. This makes it easy for anyone to use, even if you're not overly tech-inclined.
The best themes to install:
Generate Press
Astra Pro
Kadence
** WordPress.org is different than wordpress.com. WordPress.com is a free hosting service. WordPress in this context (the .org) is opensource software that runs the actual blog that you self-host somewhere on your own server or places like BigScoots.
Your First Pages
Once you have a theme chosen and applied, I recommend writing your first few pages. What you'll need to start: About Me, Contact Me, Privacy Policy, and Terms of Use pages
About You
Your "About Me" page should have a little information about you, what you do, what you like… etc.
I strongly recommend writing your "About Me" page as a way for your readers to get to know you… but take a different perspective. Instead of just the typical resume summary, really focus on your ideal reader (who they are and what problems they have that you solve).
This post by Melyssa Griffin is my favorite resource for how to draft an excellent About Me page.
Contact You
Your Contact Me page should allow your readers to connect with you.
I removed the Contact 7 forms that originally came with WordPress because it slowed down my page speed more than necessary.
For a while, I used my email opt-in forms and the Ninja Forms plugin. They embed simply and easily, and I receive an email whenever someone fills them out. They're also fully customizable to provide you with exactly the info you need, with a design that fits your branding.
Now, I've removed all forms and just have a place where people can find my email or social media channels to contact me. My site runs a little faster, and I receive less spam.
If you would like to see an example of how I use it, head over to my Contact Me page.
Legal Pages
There are a few pages you will need, at the minimum, to be legal. Specifically: Terms of Service, Privacy Policy, and Disclaimers.
These pages aren't something you should copy, as the precise way of writing them is often copywritten by lawyers. I've found the best way to make them as comprehensive as possible (to avoid lawsuits) is to hire a lawyer who is knowledgeable about blogging or purchase a template from a lawyer. Templates are much cheaper than hiring a lawyer.
I highly recommend the VIP bundle from A Self Guru. She is a blogging lawyer and offers free updates to her customers. With the VIP bundle, you'll save a lot of money on 32 different templates that will be useful as time goes on and you grow your site, plus will be offered a one-time upgrade to receive access to all her future templates too. This is the bundle I purchased, and am very thankful for it, especially now that I'm accepting guest posts and hiring freelance writers for some of my sites.
Plugins
Plugins are pieces of software you can integrate into your website to enhance your capability, track your posts and readers, and more.
To access them, click on Plugins in the left-side menu of your WordPress dashboard. Click the button Add New button at the top. Then search for the following plugins and install them. These plugins are all very well known to honor fast page load speeds, whereas most plugins will weigh down your website and cause it to load slowly… which causes people to exit before even reading your posts.
Rank Math (optimize your website to be found on search engines, and integrate services like Google Analytics)
Scriptless Social Sharing (free share buttons)
Loginizer Security (to help keep out people you don't want logging in)
Anti-Spam (to help sort through all the spam comments if you decide to allow comments)
ConvertKit (to collect readers' emails so you can continue to keep in touch with them)
Spectrum (this allows you to have more page-building options without slowing down your website)
PrettyLinks (to track your affiliate links)
LinkWhilsper (helps with internal linking within your website)
These plugins are all free, though they do offer additional features for a fee.
Rank Math
RankMath is the best SEO plugin to use to be found on Google. Using keywords on there helps Google understand what you're writing about and to whom to show your content. This plugin also helps you to choose which photo will show up with your post when it is shared on Twitter, Facebook, and other social media sites. It also connects with your Google Search Console to alert Google of new posts.
RankMath also sets you up with:
Sitemaps for search engines to crawl,
Integrate Google Analytics so you can better track your website (most ad companies require the use of Google Analytics),
Pushes out new posts automatically to search engines like Google and Bing,
Options for optimizing Web Stories.
Scriptless Social Sharing
Scriptless Social Sharing isn't 100% necessary, but it is a lightweight option for social media sharing buttons.
You'll also notice a space in the right-side settings menu for adding in Pinterest images too.
Loginizer Security
Loginizer Security helps prevent people who shouldn't be logging into your site from logging in.
Having had a small, largely unknown website hacked in the past, this is very important to mention.
Anti-Spam
Anti-Spam helps with reducing spam comments. This is massively helpful as there are many bots out there who comment with inappropriate links and messages, along with many paid services who post irrelevant comments onto blog posts to help promote other websites.
I have no problem with self-promotion as long as it continues to serve the readers and is relevant to the post and comment conversations. But when a comment comes on my site offering a hyped-up comment for a dating service on a post talking about DIY skincare, that is blatant spam and probably from a bot. The Anti-Spam plugin helps prevent those from showing up on your website.
** If you choose not to allow comments, you won't need this plugin at all.
Spectrum
Spectrum, previously known as Ultimate Add-Ons for Gutenburg, removes your need for plugins like Elementor, Brizzy, or other landing page builders that slow your site speed.
There is a bit of a learning curve, but once you get the hang of it, you'll be able to create gorgeous landing pages and sales pages.
Pretty Links
This probably isn't necessary for beginner bloggers, but after starting without it and adding it 7 years later, I can see the value of using it early, especially with the free version.
Lessons I learned the hard way:
7 years into my blogging journey, I had published over 400 posts, all monetized with affiliate links. My main affiliate company was linked to almost every page and decided to change its deep-link structure, causing me to need to update over 1,200 links. This took me a solid month of not publishing content to set up new links for all those pages.
Pretty Links is a one-and-done system. You add custom links in your Pretty Links tab in your WordPress dashboard, where link clicks are also tracked. Instead of linking to your affiliate in your posts, you link to your PrettyLink for that affiliate link.
Then any time you change affiliate programs or your links update, you only need to change it once using the Pretty Links tab. This saves you time, reduces your stress, and prevents you from losing revenue. One link change for each product or service instead of taking time to run broken link scans on your site to find all the broken links to update, which also causes you to lose revenue if people click on those broken links before you have a chance to update all of them.
Work smarter, not harder.
Link Whisper
Link Whisper is a plugin that helps you identify posts you already have published that you can link to and from with new posts you're creating. On your main posts page, it will also show you how many internal and external links you have to and from each post. The goal is to have no "orphaned" content, meaning you want every post to contain at least one internal inbound and outbound link within each post you make.
This saves a lot of time and reduces the stress of remembering which posts you have to link to.
It is a good search engine optimization habit always to have at least one or two links in each post linking to other posts and pages you have published on your website.
While this isn't necessarily needed for new bloggers, it is beneficial.
LinkWhisper's paid version is absolutely worth the cost, saving you time by setting linking automations, and automatically updating your post with links to other posts on your site.
Begin Writing Your Content
Now all that is really left is to start writing. What you write about is really up to you and what you feel will resonate with your readers (or future readers).
Start with a keyword or a key phrase in mind, and use those keywords a few times in that document, including in the title, URL, image alt tag, and "meta description" found in your RankMath block under the body of your content. No one will see that block except for you and search engines.
Once your post is written, use a tool like RankIQ, TFIDF, or Text Optimizer to help see what keywords and key phrases are related to your main keyword that you may be missing. These are all paid services, but absolutely worth having. I do use all three on every post I write.
To help save money, the TFIDF and Text Optimizer tools are offered for free from the blogging mastermind I subscribe to (more on that in a moment).
Add A Graphic To Your Post
Once your keywords are set and your post is written, you'll want to add a few graphics. At the minimum, have a header photo. This header photo should be placed in the post's Featured Photo block on the right side menu in your post's draft, and can also be used in RankMath's social media tab for Facebook and Twitter. Having the photo in those three blocks will enable that photo to show up on all social media shares.
I also strongly suggest adding another graphic on your website specifically for Pinterest. Be sure to fill out the photo's Alt Text. This Alternative Text will show up as the writing under a Pinterest Pin for people who share your pin directly from your post. Adding keywords in that Alt Text will also help people find you on Pinterest and Google's image search (Pinterest is a great search engine to share content in.. my #2 traffic source… #1 is Google).
The easiest way to create these graphics is by using Canva. Canva has a free option and many templates that help you decide on a size and layout. You can choose to create a Pinterest or Facebook graphic. My go-to sizes are Pinterest and Blog Header. I use that Blog Header for social media images too.
Decide on ways to monetize
There is no shortage of ways to make money with a blog…
Create digital downloads or ebooks to sell
Enroll in affiliate programs (like Share A Sale) to earn commissions from selling other people's products, subscriptions, or programs (this also works with Network Marketing products)
Establish a membership program or online course… either as a membership site, using social media groups, or even an online magazine
Dropshipping (creating designs that a manufacturer places on a product and ships the product to the customer for you, giving you the profits)
Sell a service you provide, whether it is coaching, something technical, administrative skills, graphic design… etc…
Having an idea of what you will be writing about will help you to determine who your ideal reader will be and which products and services will best serve them.
When thinking of monetizing, think about what problems your readers experience that you can help them solve. Then find a program that best fits that theme.
For more info on monetizing a website… head over to my Make Money Blogging post.
Consider Joining A Mastermind for Bloggers
I always thought blogger masterminds were only for owners with established blogs, not for beginners. But after sinking over $100k into various coaching and courses, I finally joined a blogging mastermind and learned how wrong I was.
There is so much value to immersing yourself in a community of bloggers from all stages of their blog life sharing about what is currently working.
Blogging and website management is one of the fastest-changing career paths to embark on. What worked last year doesn't necessarily work this year. What worked 5 years ago doesn't work today. Keeping up with these trends and lifting each other up simultaneously is massively helpful. Unfortunately, not many courses out there are up to date (especially the ones pushing artificial intelligence programs).
The mastermind I joined is Money Mix Insiders. It's a culmination of bloggers writing about finance, gaming, parenting, travel, lifestyle, faith, food, pets, etc, and more niches are added routinely.
In this mastermind, we share website tips, marketing tips, social media tips, and other day-to-day blogging tasks. We also share each other's content, network with each other for quotes and backlinks, share guest post opportunities, and syndicate to larger websites, including the Associated Press and MSN.
Additional perks of being a member include access to:
Ahrefs or Moz access for keyword research,
TFIDF and Text Optimization tools to improve SEO,
Premium Astra WordPress theme and plugins,
LinkWhisper paid version
WPRocket plugin for making your site speed faster,
Early access to premium ad networks,
Individual and group coaching (without additional cost)
among other bonuses and benefits.
Putting it all together
Now you know what you need to do to get started… it is time to put it all together. All of these steps are needed before being able to monetize your blog.
Establish what it is you're going to write about
Decide on a blog name… whether you use your own name or you choose something different
Choose a Domain (the web address) your website will be found at
Choose a website host to host your website for you
Decide on a theme (what you're website will look like)
Create your About Me, Contact Me, Privacy Policy, and Terms of Use pages (make it easy with a template)
Upload the RankMath and Mediavine Grow plugins to help you with your social media sharing and being found on search engines
Ensure your website is ADA compliant
Begin writing content, and don't forget to add your main keyword in the RankMath keyword block
Review your work on websites like TFIDF, Text Optimizer, or RankIQ
Create graphics for each blog post to be viewable on social media websites and Pinterest.
Consider joining a blogging mastermind (yes, even for beginners)
Keeping your audience engaged
Once you start receiving traffic to your blog, you'll want a way of keeping in touch with your readers who want updates from you as you expand your articles. There are a few ways to do this:
Social Media Posts – regularly post to Facebook, Instagram, LinkedIn, Pinterest, Parler, Snap Chat, MeWe, or whichever other social media platform you use the most. Knowing who your ideal readers are and where they hang out online is a great start.
Email Newsletters – a great way to keep in touch with your readers who want to keep hearing from you, and provide them with updates to your blog posts. I highly recommend using MailerLite where you can start for free, or a more advanced option using ConvertKit (which is what I use).
Create Your Own Social Network Group (I LOVE using the Mighty Networks or Telegram apps to do this with)
Looking for more info about adopting a healthier lifestyle? Check out our online courses or my home business opportunity centered around maximizing your physical and mental health.
---
Nicole is a military-trained research analyst, homeschooling mom, healthy lifestyle coach, flexible business consultant, and writer for MotherhoodTruth.com and GracefullyAbundant.com. After living through and overcoming a season of homelessness and chronic health, Nicole developed a passion for helping others develop healthier habits using functional nutrition, herbalism, and renewing faith.